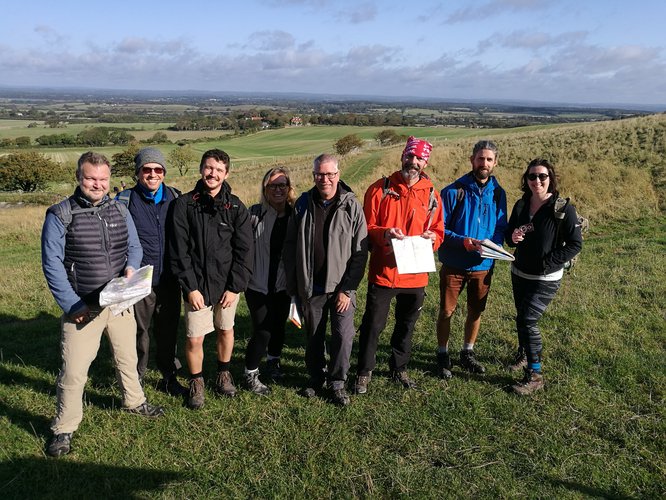 How do you survive a 12k trek over the South Downs on a crisp October day? Simple. You employ the services of Pete Kelly, genial expert of the outdoors, who will teach you how to navigate using OS maps, compasses, your wits and lashings of miso soup.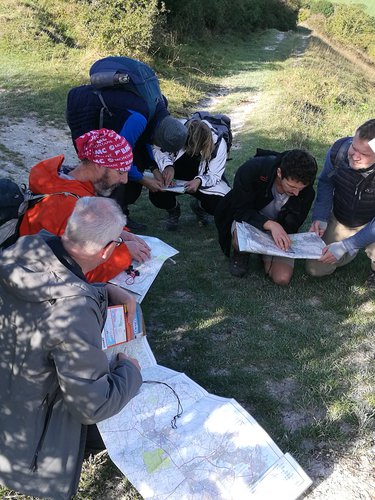 If like me you've never really seen a compass up close before, here's a visual reference: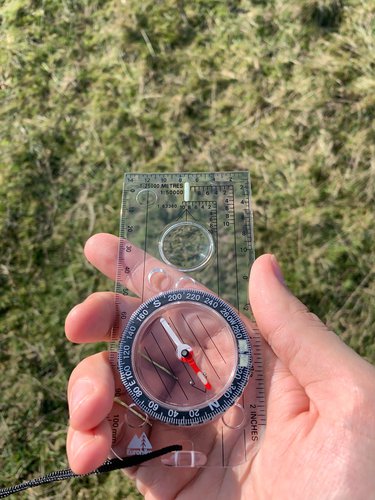 Once we found our bearings with the compass using map gridlines, and a marked destination, we marched purposefully in their direction, using the motto "red in the bed!" to remind us to keep the red needle pointing due North. In orienteering, if the red's in the bed, you're golden.
This hidden gem of a dew pond was represented on the map by a blue circle only visible with the use of the compass' magnifying glass, and was completely obscured by trees. Pete's pleasure in the discovery of these pockets of beauty was infectious and led to wondering how many visions of peaceful serenity might we be casually striding past on less technical walks?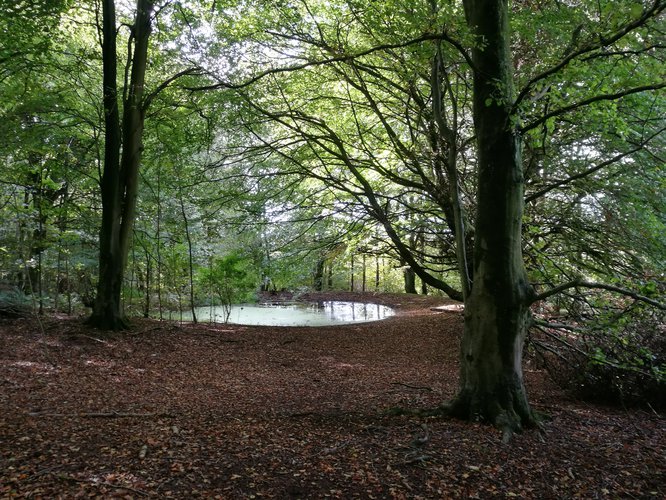 Whilst the downs may not place the kind of strain on a person that K2 or Nanga Parbat might, staying warm and eating are still primary concerns for even the most average of walkers, and Pete showed us some inspired ways of surviving out there in the brambly wilds.
Keeping four people warm is easily achieved by way of the bivouac / bedsheet method, which seemed to go thus:
Unwrap the bivouac / bedsheet and put it over your heads.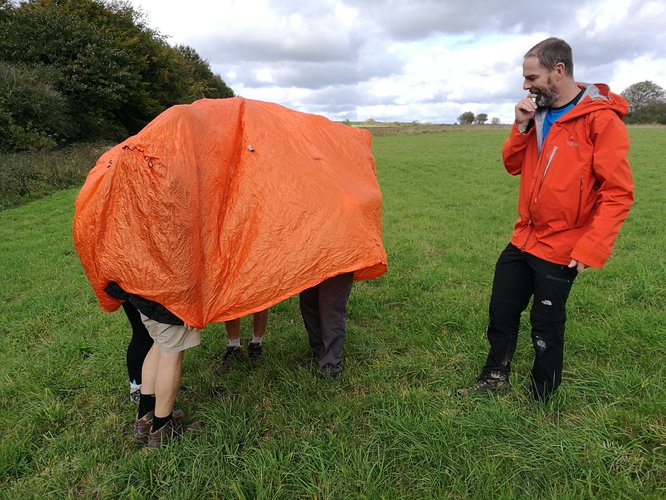 Crouch down, taking care not to let any monsters get through the cracks.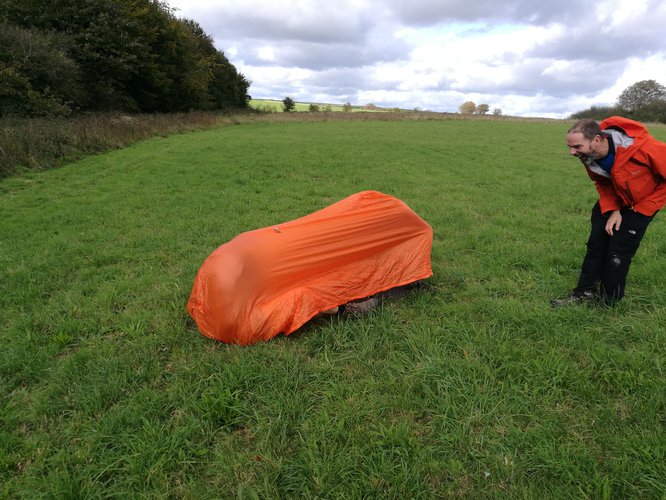 Great success!
The next survival tactic may not suit vegans or vegetarians, but you have to admire the ingenuity of a recipe whose ingredient list amounts to three pieces of toilet paper and two cans of tuna:
After folding your toilet paper and carefully laying it over each can of tuna (in sunflower oil - important), set fire to it. Watch the flames dance. Sing a scout song or two. Rub hands gleefully together. Once the oil has burned off, eat the contents.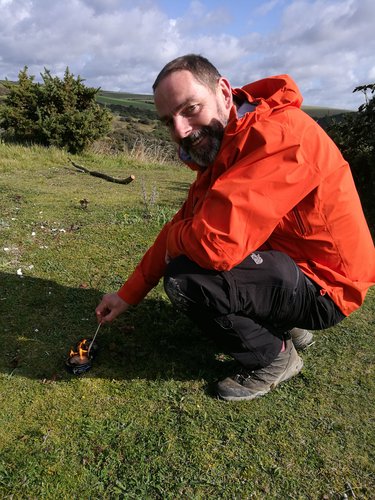 Pete tending the tuna flambée.
After some initial uncertainty those of us who could eventually hunkered down gamely and ate it - it was delicious. Smoky and unctuous, very Heston!
The downs were magnificent on a day whose weather stayed clear and fresh, and the contours we were taught to use as visual guides as to our whereabouts were particularly visible - you could see the strata almost as depicted on the map itself, and our new skills were teaching us to see them in new and precise ways.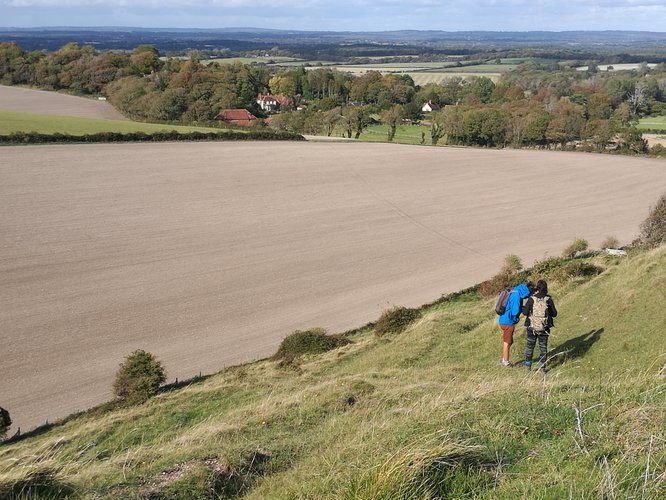 The activities and sense of working together as a team to gather data and problem-solve encouraged much cameraderie. Pete's route was chosen so well (he'd done it himself the day before) that even the sheep we passed came bounding up for scritches, and who's ever heard of an affectionate sheep? These ones must be crossed with Golden Labs. Not shown: donkeys, who were also very obliging and up for both being petted and eating our jackets.
We finished the day where we began it, around five hours later, in Wilmington, home of Sussex's fertility hotspot The Long Man, a 235ft neolithic figure of a Nordic walker.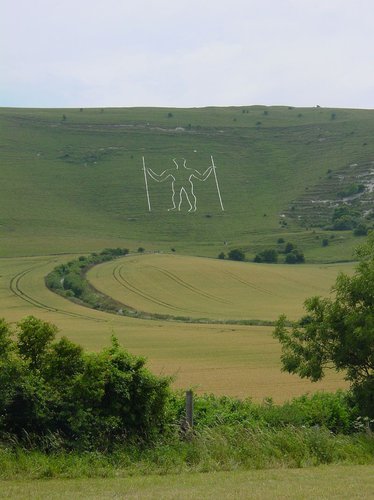 It's also home to a 1600 year old tree of such astounding size and sense of history that significant time was spent affectionately patting that too.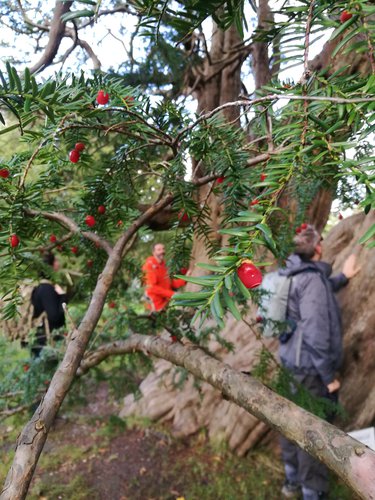 The day was completed by a trip to the Giants Rest, a pub in Wilmington where we took our boots off and enjoyed a pint, discussing the ways in which we're all looking forward to putting our new skills to use.
Huge thanks to Pete Kelly, whose passion for the outdoors and for navigation made the endeavour enjoyably challenging and lots of fun. We had two 90 minute sessions before heading out on our adventure, learning the basics of pacing, contours, and orienteering. He can be reached at pedkelly@gmail.com with any enquiries, if you would like to hire him for your own team expedition.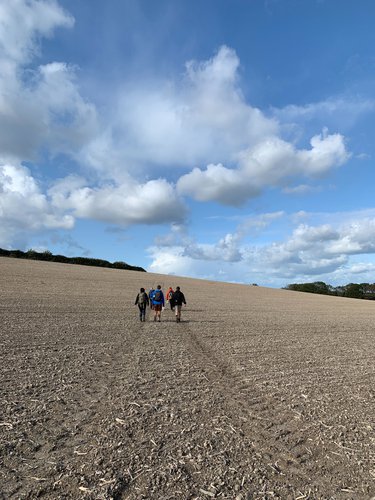 blog comments powered by

Disqus