At DabApps we're conscious of the impact we have on society. We minimize our carbon footprint by hosting our services using one of the most sustainable cloud services, AWS. Furthermore, we have an internal strategy group that organises our Corporate Social Responsibility efforts. The CSR group is open to any employee and consists of PMs, developers and the senior management team. We organise opportunities to donate to charities, ensure the products in the office are ethical, and we reach out to the local digital community and to the global dev community by open sourcing reusable libraries. With the end of 2019 in sight, it's a perfect time to look back on what we've done and share it with the world.
Donating to charities
Clocktower sanctuary
It's become a DabApps tradition to donate to a homeless charity around Christmas time. Last year we had a couple of charity boxes for the whole of December so that staff could donate food and clothing as well as cash to the Clocktower Sanctuary. To boost our donations even more we organised a bake sale and dress up Friday which were definitely worth repeating.
Charity box
Having a charity box available every day meant staff got the opportunity to donate their pennies to charity on a regular basis. We decided to take this idea further than December. Everyone was to submit a charity they'd like to support at the end of the year. In January we picked a couple of causes we would leave the charity box out for all year to donate our pennies or anything bigger. This year we decided to go for Together Co, a local loneliness charity that creates connections to change lives, and Ratanak, a charity in Cambodia that helps and protects people who are being trafficked and exploited.

LGBTQ Switchboard
This summer during pride we organised a craft day to raise money for LGBTQ Switchboard, a charity for LGBTQ people looking for community, support or information. We channelled our most flamboyant sides, making colourful parade masks and accessories.
Macmillan Coffee Morning
In September some of us went all out baking cakes again for the Macmillan Coffee Morning. People all over the UK host their own Coffee Mornings and donations on the day are made to Macmillan, an amazing cancer support charity
Community Outreach
The tech community is very vibrant in Brighton and Sussex. Many events are organised to support a positive community, and many of us regularly take part. As part of our CSR strategy this year we've sponsored the Spring Forward festival, which is a month-long celebration of the role of women in digital culture. We've hosted Codebar once a month and we've helped out at the BIMA Digital Day.
Codebar
Codebar is a non-profit initiative that facilitates the growth of a diverse tech community by running regular programming workshops. Their events are organised across the globe. The team in Brighton are very dedicated and organise a workshop every Tuesday. Every week it's hosted and sponsored by different companies in Brighton, and this year we've hosted Codebar every first Tuesday of the month. We've made the office available for socializing over pizza and drinks before students dive into their tutorials with the help of many awesome coaches. It's been a great success every time!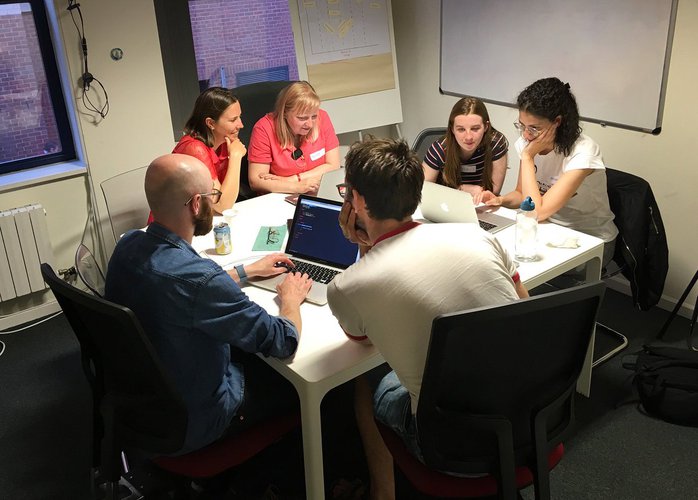 BIMA Digital Day
BIMA is the British Interactive Media Association. They organise a yearly BIMA Digital Day across Britain to give secondary school students the opportunity to learn from digital professionals and get insight into careers available in digital. This year for the first time, some of us at DabApps went to Oriel High School in Crawley to get them engaging in digital. The kids were very motivated and had fun competing to produce some great work. We came away from the experience feeling really inspired.
Open Source
Open Source Software is software for which the source code is openly available to anyone to read and to make contributions to. At DabApps we've created quite a few open source packages over the years. These packages would never contain any client specific work of course, but rather bits of software that we reuse on different projects, such as exporting CSVs, creating standard React components, help optimizing our backend performances and many more.
This year as part of the CSR strategy, we've cleaned up our open source packages on Github, deprecated any packages that are not maintained and added a Code of Conduct to each package to serve as guidelines for when people want to contribute to the Open Source package.
Recycling and Ethical products
We've listened to the increasingly urgent calls to avoid the corporations most visibly employing unethical practices, and turned our weekly shop of instant coffee, soap, and washing up liquid even further towards the principles of sustainability, fair wages and rejecting products made from palm oil.
Last but not least, we take recycling seriously. We've been recycling our paper, plastic, cans etc in the office for years. This year we decided to also encourage employees to bring their non-standard recycling, such as batteries, DVDs, keys, toothbrushes and more from home to the office. We then collectively take them to The Green Centre to prevent such items ending up in non-recyclable bin in people's homes.
What's happening in 2020?
We've been trying our best to have a positive impact on society and we will continue doing so in 2020. Some new initiatives on the horizon include helping with the Brighton Beach Clean, hosting the Brighton and Hove Python user group BrightonPy, and encouraging employees to participate in the Cycle Challenge for the Brighton Housing Trust. There are so many great initiatives to get involved with, and from our vantage point in the heart of the North Laine, we're really well placed to do so.
With our motivated CSR strategy group, we look forward to continuing to contribute to a better world in 2020!
blog comments powered by

Disqus