So, in an attempt to vary our blog content (and raise some money for charity!), I'm going to veer away from tech or business and talk about something totally different: boxing.
Yes, you read it right, boxing. In just over a week, I'm taking part in a charity boxing match in front of hundreds of people, all suited and booted for a black tie event at The Grand Hotel, Brighton, in aid of Cancer Research UK.
I usually spend my days sending emails, writing proposals, meeting clients and drinking tea, so when a good friend told me about Ultra White Collar Boxing in aid of Cancer Research UK (CRUK), the very idea of stepping into the ring made me laugh out loud. Then I thought about the number of people I know who have been, and continue to be, touched by cancer and the physical and mental challenges they face on a daily basis - a charity boxing match pales in comparison, right?
Having gone along to the information session and heard about the intense training, the experience of boxing in front of a big crowd and of course the money raised for CRUK, I couldn't say no... that, and I'm really stubborn. So I signed up. And then I got scared.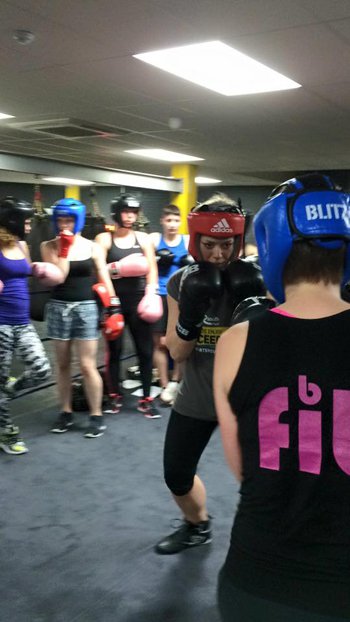 Over the past seven weeks I have been training alongside a group of brilliant and determined women; all on very different journeys, doing our bit for different reasons, but all training hard for fight night. It's no exaggeration to say that there has been blood, sweat and tears along the way. I will put my 16oz gloves up and admit that it's been one of the most challenging things I've ever done, but it's also been hugely rewarding and empowering - I can now do 'proper' push ups!
During training, we've all faced physical obstacles, from bruises to muscle strains - even contact lenses making a bid for freedom mid-spar! Colds and flu have done the rounds (panic set in when I got a chest infection just three weeks before the big match) but through it all we've maintained our fighting spirit.
I respect and admire every person in the group and I am immensely proud of us. The dedication to training and to the cause (ticket sales and fundraising efforts have been huge) inspires me and motivates me. One of the best things to come out of this roller-coaster ride has to be the new friendships forged and the support we've given each other along the way. I know that I'll stay in touch with the amazing group of women I have met and trained with and although I don't think I'll be entering any more fights, I'm not quite ready to hang up my gloves. I'll definitely continue to train hard! I feel - no, I AM - physically and mentally stronger as a result of this journey and as terrifying as it has been at times, I'd encourage anyone thinking about it to go for it!
With just over a week to go until we're ready to rumble, emotions are mixed. On the one hand, next Saturday night can't come soon enough - I'm excited and probably as ready as I'll ever be, and it will be a relief when it's all over! On the other, I don't want this experience to end; what am I going to do with my evenings if I'm not training or sparring with the girls? Guess it's time to start thinking about my next challenge...
Fundraising for CRUK has been a great motivator and during our training (thanks to the awesome Neil Wray at The Underground Gym for his patience and pushing us beyond our limits), UWCB fundraising reached the £1million mark for CRUK and it's wonderful to know that I've played a small part in that. I'd really like to thank the team at DabApps for sponsoring me, the kind donation, for your words of encouragement and (potentially sometimes feigned!) interest in every training session I've talked/moaned about - I'll do my very best to do you proud!
If you would like to donate to CRUK and help beat cancer please visit my JustGiving page. If you want to see us in action, tickets are still available for the black tie do on 2nd May at The Grand Hotel, Brighton - get in touch if you'd like to give me some ring-side support!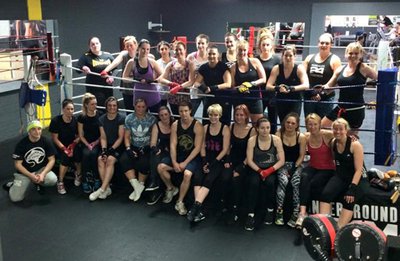 blog comments powered by

Disqus