Well done, CrunchBoards!
EMERGING ADD-ON PARTNER OF THE YEAR
That is the headline coming out of Xero Awards UK 2015 and CrunchBoards co-founder Hannah McIntyre was there to pick up the award.
CrunchBoards is one of our most successful client projects and we are immensely proud of our designers and developers who are part of the CrunchBoard team. Well done guys!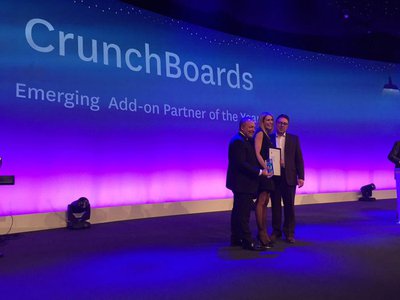 We have been working with Hannah and her team for almost a year now and it has been an incredible journey, culminating in a product which is making big waves in the accounting and SME industry. CrunchBoards is a "financial and business intelligence platform" utilising data pulled in from Xero accountancy software. It's for accountants and business owners alike, giving them a powerful analysis engine for the past, today and the future, with a powerful 3-way forecasting engine and automated monitoring with in-app and email alerts.
For accountants it is a "complete practice management and client experience tool" allowing them to view multiple Xero organisations, the way they want to, side by side and allowing them to collaborate with their clients in real-time.
For small business owners there is complete flexibility in planning the future of their business and easy collaboration with their advisor, team or stakeholders.
So where does CrunchBoards go from here?
Well the only way is up! We are now an established strategic development partner of CrunchBoards and we look forward to the year ahead, building upon this already successful product and helping Hannah and her growing team realise their business goals, moving into further financial and non-financial data integrations.
Says Hannah McIntyre, Co-Founder of CrunchBoard
blog comments powered by

Disqus