Collaborating with Brighton charity Amaze allows us to put something back into our community year on year.
Local charity Amaze gives information, advice and support to parents and carers of children and young people with special educational needs and disabilities (SEND). They developed the Compass Card, a free leisure incentive card for those up to the age of 25 with SEND who live in Brighton & Hove and West Sussex. Registered users of the service are now able to access the ever growing list of leisure incentives available via a mobile app.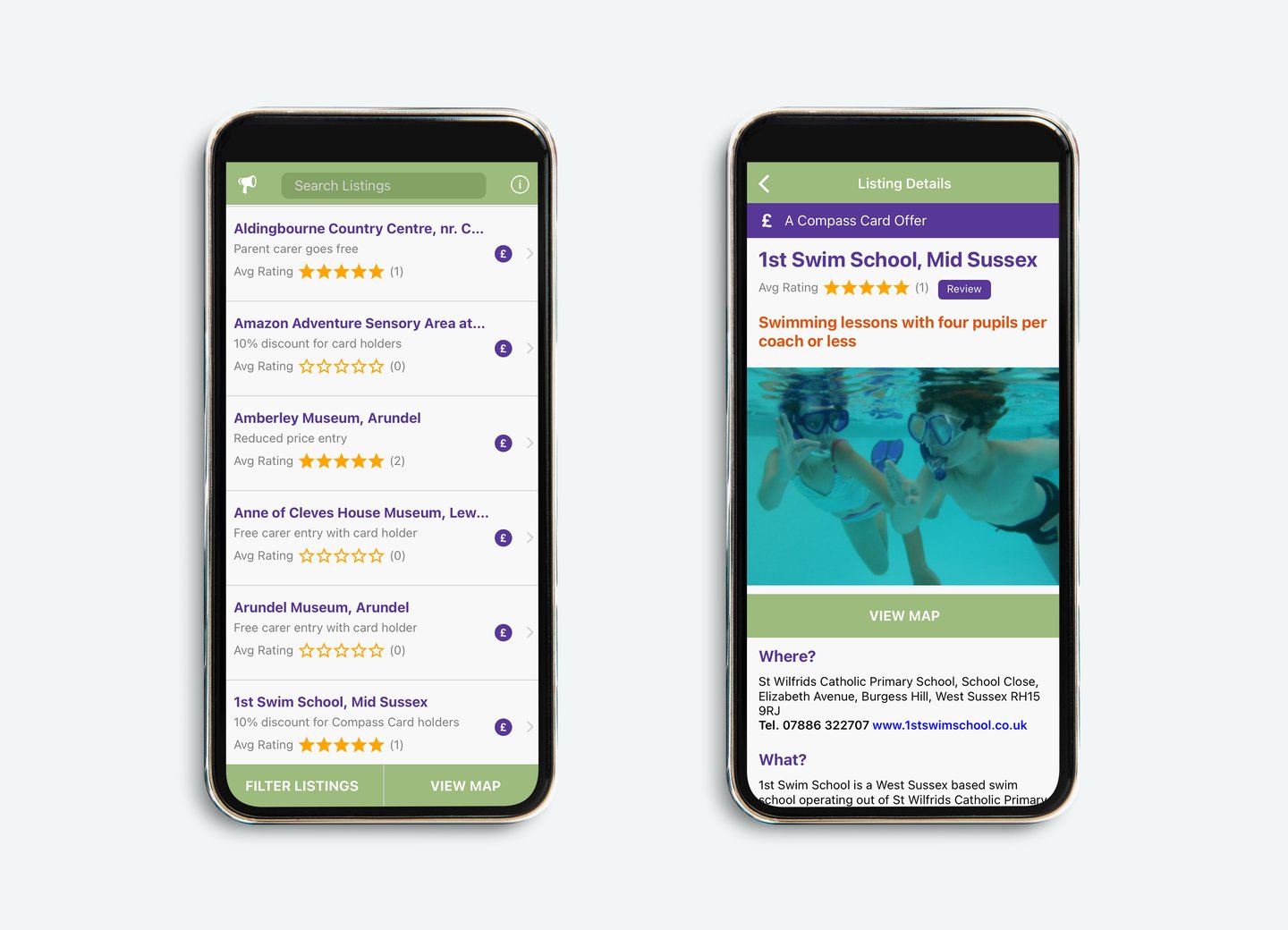 The challenge
Amaze wanted to build on and grow access to leisure incentives by advertising them through a new Compass Card mobile app. They asked us to build an app for both Apple and Android phones as well as enable them to manage their own content which could be shared across the app and their organisation's website. Initially, the app was to be launched by Amaze in Brighton & Hove but we knew that the solution had to scale to include another neighbouring authority who were interested in rolling out a similar scheme.
How we solved the problem
Giving much of our time pro bono, we designed and developed the Compass Card mobile app using Ionic development framework, built the accompanying API and created a simple, web-based content administration tool using Django. The latter allows Amaze to manage their own content in real-time and the API allows content to be shared via both the mobile app and Amaze's dedicated Compass Card website.
Uptake of the Compass Card app amongst those eligible has exceeded everyone's expectations and allowed Amaze to bring on board many more incentives from local leisure providers. Using powerful search and filtering features families can now browse offers on the move, from their mobile phones, and find out what is available around them quickly and easily using the map feature. Following the success of the Brighton & Hove Compass Card, in 2016 West Sussex County Council commissioned their own version of the Compass Card and mobile app with equally enthusiastic uptake within the authority.
The Compass Card app is available from the App Store or Google play. You will need to be a Compass Card holder in order to benefit from the offers listed.
The team at DabApps have been a pleasure to work with. They took the time to understand what Amaze does and what was needed and they were efficient, intelligent and responsive throughout the development process. This was a pro bono project, but we never felt anything less than top priority; staff have been professional and committed and as serious about deadlines as we are.

Ann Blackburn, Compass and Development Manager at Amaze